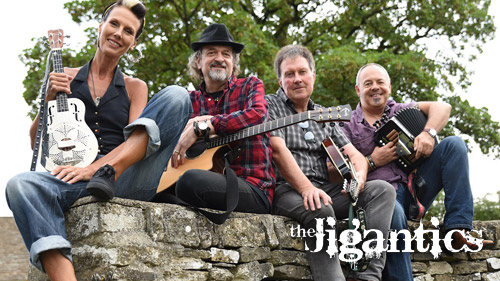 Jig (noun) a rapid, lively, springy, irregular dance for one or more persons
An-tic (noun) a playful trick or prank
Listen to and purchase their music here in our store.
One of the UK and Nu Folk music's most arresting new bands, The Jigantics are part of a growing group of contemporary artists appealing to a wide range of music followers who are increasingly looking beyond conventional musical stereotypes, and just enjoying a fusion of great songs, stunning harmonies and fine muscianship. In this case its a genredefying mix of Roots, Blues, Trad, Country and then some. "Love the new sounds! It's really different. I can't place the style exactly but it will certainly appeal to a wide range of people" Michaela Pape - Southsea Folk & Blues Festival. One of The Jigantics great strengths is their ability to combine the power and energy of a five piece band and the vulnerable sound of a solo performance all in one show and make it work so well. Its a pretty neat trick and in live performance they carry the audience with them on a journey of foot stomping joy tempered with only the occasional heartbreak. Seeing them live it's clear that this band believe having a good time is an essential ingredient to any gig, ensuring that the road travelled overwhelmingly ends in a smile.
"The Jigantics were next, and they were the find of the festival so far for me. Consisting of Marion Fleetwood and Martin Fitzgibbon from Colvin Quarmby, and completed by members of Sons Of The Delta, their folk/blues/country-influenced set was very well-received. All in all a good festival and I think The Jigantics would go down well at Cropredy."
Dan Ogus - Southsea Festival organising committee
"The Jigantics were brilliant. A refreshing and varied blend of uptempo songs and beautifully arranged ballads. Great instrumentation from very talented musicians delivered by a band who had presence.They worked hard to build a strong rapport with the audience. The result; a really enjoyable night with people feeling uplifted having been part of something quite special."
David Francis - Nailsea Folk Club
"Well they started their gig last Thursday with 'The Save' and it was 100 times bigger and better than the track sounds on their website.... great foot-tapping music. I have a new favourite band."
Katie Thomas
"I love it !!!.... we must have The Jigantics for our festival."
Simon Hart - Welfest Festival Organiser
Their debut album 'Daisy Roots' has had fantastic reviews...
"an album with a bunch of highlights and no failures."
Flyingshoes Review 10 February 2014
"This is a very, very fine debut. Highly recommended!"
Blues Matters! magazine April 2014