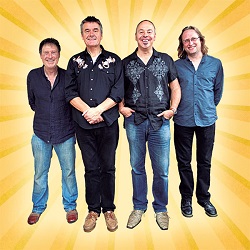 Listen to and purchase their music here in our store.
Sons of the Delta play an earthy, passionate blend of electric/acoustic juke joint and street corner delta blues flavoured with the many roots music styles from the southern states of the USA - anything from delicate, intimate acoustic blues to full on house-rockin' electric blues that sounds as big as a band! The "Sons" are two of the top bluesmen in the southwest UK - Mark Cole and Rick Edwards. Between them they have nearly 50 years experience of playing the blues both in Europe and the USA. Their debut album 'One For The Road' was released by UK blues label Blues Matters Records in 2004. For many years they have been regulars on the UK festival circuit and some years ago they spent three weeks in Mississippi where they played in juke joints and clubs and recorded their second album (and first album for Rawtone Records) 'Made in Mississippi' with guest appearances from a number of top Mississippi bluesmen including legends piano player Pinetop Perkins (former long-time Muddy Waters band member and featured in the Martin Scorsese "the Blues" series) and drummer Sam Carr (son of guitarist Robert Nighthawk and also featured in the Martin Scorsese "the Blues" series).
Since then they have returned to Mississippi many times playing at clubs and festivals, noteably the Juke Joint Festival in Clarksdale in 2011 and 2014, and have toured around Europe sharing their take on the blues with an international audience.
It's been a wait but their third album 'Tasty Nuggets' is now available. Buyers of the album will also have exclusive access to a private area of the Sons of the Delta website where they can read the lyrics, detailed information on the recording session and see photos taken at the various recording sessions.
A review of 'Tasty Nuggets' from Blues Matters magazine
"Tasty Nuggets is the third recorded outing for Sons of the Delta, now in the form of a quartet with a rhythm section producing a bigger sound. Thirteen little nuggets are here for your listening delight as they deliver their distinctive earthy electro-blues.
This is blues that is three things: authentic, original and intriguing. The album is full of sunshine, it is music you want to be out at a festival with, the mix of self-penned numbers and re-created covers so they belong to Sons of the Delta. You have to smile as the guitar, vocals and blues-harp blend and shape the sound that pleases in all the right spots. The inclusion of non-standard covers are a duo of delights: Curtis Mayfield's 'People Get Ready' and Bukka White's 'When Can I Change My Clothes' both have been re-invented and sound fresh while remaining true to the original. The other eleven tracks are all composed by Mark Cole, the band has utilised the freedom of the studio with some inspired guest appearances with electric guitar courtesy of Mike Myers with the twang of electric guitar on Downhome Blues giving the track a driving pace while we have piano added to the mix courtesy of Jake Carpenter on 'Too Little Too Late', blues redolent of Howlin Wolf as the intro guitar moans and sends a shiver down the spine again the vocals are to the fore. We hear the keys from Bill Blair on a number of tracks and they add another texture and tone particularly evident on 'Thirtynineteen' with the addition of harp from Mark Cole. This is blues that is from deep in the delta. Tasty Nuggets is certainly tasty and delivers a platter of tones, textures and grooves so you want to listen from beginning to end and back again on repeat."
Liz Aiken

A review of 'Made in Mississippi' from Issue 55 of Blues in Britain magazine

"For their second outing, the Sons of the Delta (Mark Cole and Rick Edwards) decamped to their spiritual homeland (Clarksdale, MS). In addition to recording "Made in Mississippi" with a little help from their friends, they also played several dates including Morgan Freeman's Ground Zero club.

Somewhat ironically, the album opens with a classic rocking Chicago style blues, "It's Me", which grabs the listener's attention. The first of two very famous friends (Pinetop Perkins) then takes his seat for the epic "Cryin' Down In Clarksdale", delivered Muddy Waters style, later returning to lead the band through his own "One More Time". Elsewhere Sam Carr anchors things in his inimitable style on the Wolf-like "You Can't Have The Hoo Without The Do", the excellent Hill Country stylings of "I Wish Somebody", and "eBay Blues" which gives a 21st Century twist to the "My baby done left me" tale.

The album is mostly recorded using a classic core line-up (guitar, harp, bass, drums), but Cole and Edwards are equally at ease in an acoustic setting. This is neatly demonstrated on "Pickin' With Phil" (Phil Wooten, 2nd guitar), "Clarksdale Strut", and "Train Roll" (with Stan Street on harp). It is the full band though , with Terry "Big T" Williams, that heads homewards on "I'm Moving On", calling to mind "The Thrill Is Gone", before closing out in the best Jimmy Reed style with "Standing On The Edge".

"Made In Mississippi" is a belter of an album. Mark Cole and Rick Edwards, do not just "play" the Blues, they "feel" it too. This gives them the edge over many of their contemporaries, because they add their own original twist to what some perceive as the tired idiom of the Blues. If they can maintain this standard, they could easily find themselves being lauded as Britain's Jelly Roll Kings."

Rating: 9/10 - Gordon Baxter


Here's what people are saying about the Sons of the Delta


"Fantastic"
Paul Jones, BBC Radio 2
"Righteous stuff"
Joel McIver, Classic Rock's The Blues magazine
"played a sublime set...certainly revved the crowd up"
Russell Hill, Maverick Magazine
"impressive guitar"
Trevor Hodgett, R2 Magazine
"Authentic, original and intriguing...full of sunshine"
Liz Aiken, Blues Matters Magazine.
"Very inventive, powerful guitar playing and their commitment and enthusiasm for what they performed was obvious." Bob Tilling (bluesman, writer and reviewer - Stroud Blues and Beyond Festival)

"You guys are the real deal!" Will Dawson (sound engineer at Delta Recording, Clarksdale, Mississippi)

"You guys have really got a good little unit there...I thought that was pretty darn good - you don't have to take a back seat to anybody" Sonny 'Sunshine' Payne (legendary presenter of King Biscuit Time on Radio KFFA, Helena, Arkansas) (King Biscuit Time radio interview)

"they give you the spirit and essence that is required and deliver with belief...their playing is indeed atmospheric and complimentary and will get you tapping your feet at the appropriate times...more please guys!" Blues Matters Magazine

"They are exceptional" John Roberts (Bullfrog Blues Club organiser)