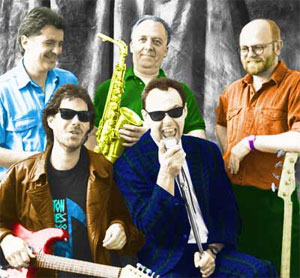 Ask any dyed-in-the-wool blues fan who has followed the Gloucestershire scene for many years about Maxwell Street and they will smile warmly at you and reminisce about the days of the Barge Semington blues club, or maybe the band's support of Chicago blues legend Eddie C. Campbell at the Gloucester Leisure Centre or their appearances at past Gloucester Blues Festivals. In fact, Maxwell Street are a legend in their own right. They are one of the south-west UK's longest established blues band and after twenty years plus of performing at numerous festivals, clubs and bars throughout the land they are certainly one of the best you're likely to come across. They started as a four-piece band back in 1983 and have grown over the years into a seven piece band (two of the guys were at the bar when this photo was taken...)

The line-up is Mark Cole on vocals harmonica and slide guitar, Roger Baynham on guitar, Bill Blair on keyboards, Tom Selway and Dave Walker on saxes, Roland Berry on bass and Stuart Earl on drums and backing vocals. The warm comradeship between the band members is obvious and shows in their relaxed, effortless performance - they have a chemistry which only comes with a long friendship such as theirs. In fact performing with Maxwell Street is such a tonic that a host of musicians have come along to gigs and played, sometimes for the whole show, as guests. The long list includes Mike D'abo (Manfred Mann, Radio Gloucester), Phil Beer (The Albion Band, Show of Hands and session player with the Rolling Stones), Ian Dench (EMF), Doug Chandler (guitar guru to the stars - e.g. Eric Clapton, Pete Townsend), and Graham Davies (Blonde on Blonde).

Maxwell Street have over the years been in great demand by visiting acts looking for a consistently good support band. They have warmed up the crowds for a diverse range of musicians which include Steve Gibbons, Dr. Feelgood, Chicken Shack, Steve Marriott and of course Eddie C. Campbell.

Their debut album 'Maxwell Street's Greatest Hits' is sold out and awaiting re-pressing, however it will soon be available as a download.

Whether an up-tempo R'n'B mover, a slow and moody blues or a soul classic Maxwell Street lift an audience, putting a smile on their faces and a shuffle in their feet. If you're a promoter, what are you waiting for? Get them in your venue now!