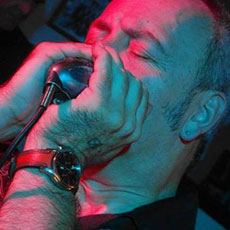 Since Mark's first gig back in '82 he has treaded the boards countless times singing and playing blues and roots music with feeling, passion and conviction. You can listen to and purchase his solo music here in our store.

In 1983 he formed Gloucestershire based blues band Maxwell Street, a band which still plays today having grown over the years from a four piece to a seven piece outfit. In the band's formative period, realising he could add something to the sound if he did more than sing, he started to teach himself slide guitar and harmonica by listening to the old vinyl albums of his favourite delta and chicago players and emulating them. Over the years this totally self-taught approach has given Mark a down-home, undiluted style on guitar and harmonica which is reinforced by his choice of authentic vintage equipment. For more on Maxwell Street go here.

Mark has a great love of all southern roots music and was able to bring a mixture of those influences to roots rockers the Dockery Boys, formed in '90. Once again Mark decided to expand instrumentally on what he brought to the band and taught himself piano accordion and cajun accordion. The band played a highly danceable brand of rootsy, rhythmic rock and by combining solid, guitar driven rhythms with fiddle, mandolin and accordion the Dockery Boys successfully bridged the gap between rock-pop and roots music. Numerous festival appearances included headlining the '94 Gloucester Docks Roots Festival and a prestigious slot at Glastonbury Festival '94 on the Acoustic Stage where they played a highly acclaimed set alongside Richard Thompson, Albert Lee and Allison Moyet. At Live '95 (a high profile showcase for hot talent) the Dockery Boys fought off nearly five hundred national bands to be voted one of the top ten new acts in the UK.

In 2003 Mark teamed up with Rick Edwards to form Sons of the Delta, a highly respected two piece outfit which plays a no-nonsense blend of electric and acoustic blues - both traditional numbers and new originals. The 'Sons' have just relased their second album 'Made in Mississippi' which they recorded in Clarksdale, Mississippi during a three week tour there at the tail end of '04. For more on the Sons of the Delta go here.
Mark returned to Clarksdale, Mississippi, in April '05 to visit his friends and to play at the Clarksdale Juke Joint Festival where he teamed up with Ottawa blues brothers, Mike 'Mossman' Myers and Steve Myers and then five years later flew out to Ottawa to record an album with them and play a series of gigs. The 'Sons' returned to the USA in 2006 to play the King Biscuit Festival in Helena, Arkansas, and again in April 2011 and 2013 to play at the Juke Joint Festival.

In 2010 he co-formed folk/roots band the Jigantics with the musicians in the Sons of the Delta band plus Marion Fleetwood on vocals, violin and mandolin. The Jigantics play in the UK and Europe primarily at clubs and festivals and to date released two studio albums - Daisy Roots and Seconds Out.
In 2016 Mark teamed up again with Ottawa blues brothers, Mike 'Mossman' Myers and Steve Myers to form Brothers and Sons, an ongoing project to meet up somewhere in the world and spend time recording and performing, releasing the output online as and when they have a handfull of finished songs.

Mark also plays solo and with other blues/roots musicians as a gun for hire. These shows often feature songs that Mark has written for other musicians and songs that don't fit the scope of the others bands that he performs in. A solo album will be available in the near future here on Rawtone Records. In the meantime, the solo singles 'Let Me Down' and 'Had Our Day' are available in our store. Recently, Mark has been performing around the southwest UK in a duo with New York bluesman Damon T.

Both in the studio and on stage he has played with or supported a great many musicians including Pinetop Perkins, Sam Carr, Willie King, Kent DuChaine, Eddie C. Campbell, Big T Williams, Alison Moyet, Dr. Feelgood, Chris Jagger (Mick's brother), Roy Wood, Ian Dench (EMF), Steve Gibbons, Mike D'Abo, Phil Beer (Rolling Stones session man), Richard Thompson, Alvin Lee, Chicken Shack and Steve Marriott. Over the years he has received critical acclaim for his vocal performance and songwriting which has been described as having "a quality and professionalism that sets it apart from so many" with an "assured melodic delivery and ability to constantly impress" (Rock 'n' Reel magazine).